Community Profile

This journal should be viewed with discretion.
Free Account
Created on 2012-01-25 17:36:55 (#1452859), last updated 2012-01-25 (295 weeks ago)
716 comments received
309 Journal Entries, 264 Tags, 0 Memories, 5 Icons

About
| | |
| --- | --- |
| Name: | Millirific - Fic at the End of the Universe |
| | |
| Website: | Milliways Bar |
| Membership: | Moderated |
| Posting Access: | All Members |
| | |

Mini Bio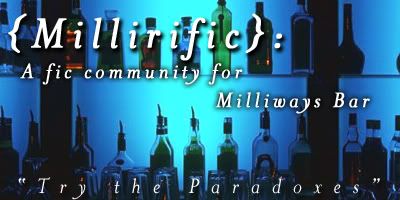 Feel free to take the banner for your own journal, but please don't hotlink :)
Who are we?
Welcome to
millirific
! We're the fiction community for writing relating to the characters from your friendly neighbourhood Pan-fandom RPG
milliways_bar
. This is the place to post any of your drabbles/poems/ficlets/epic sagas that are in anyway related to
milliways_bar
What do we do?
Apart from providing a forum for your works of fiction, we also have an ongoing challenge that anyone can choose to participate in. Each Sunday we'll be posting a fun prompt (word, sentence, song lyric; could be anything) or alternatively you can complete that week's
Millirific42 prompt
to help fill up your table!
What are the rules?
We don't have any! However, we do have some suggestions:
- If you're posting the fic straight to the community please put it under an lj-cut.
- Don't bully others; play nice.
- Have fun!
Please note:
What happens in Millirific stays in Millirific! Writing here is considered AU from bar continuity, unless all characters written about decide to incorporate it into Millicanon. It's respectful to make sure folks know you're writing about their characters, so we do encourage running anything you write about other characters by their muns first, so no one is surprised.
If you wish to write straight up canon fic, that's fine! This is a safe place for that. Just please label it accordingly (i.e. Not-Milliways Fic) and use the tag: canon fic - Non Milliways continuity.
And although you don't have to, we'd appreciate it if you use the handy format - at the top of your post - to label your fic:
Title:
Author:
Summary:
Rating:
Characters:
Spoilers:
Author's Note:
Disclaimer:
(If you are writing about Milliways characters in a Milliways context, and none of them belong to you, please make a note of this in the disclaimer.)
Who can I contact?
The Moderators - if you have any questions or problems they are available for contact!:
wonderwhatif
likes short walks on the beach, followed by an ice-cream cone and cliché sunset (at least, before the bugs come out). She can be contacted via Private Message her email (Kinneaskink at gmail dot com) or on AIM: GotGrenades.
vivien529
has been around for yeeeears and remembers far too much about threads from 2004 than is probably good for her. Catch her on PM or at vivien529 at gmail dot com or on AIM at vivien529. La!

Connect
au
,
challenges
,
crack
,
crack pairings
,
crossovers
,
drabbles
,
fanfic
,
fanfiction
,
fic
,
het
,
milliways_bar
,
prompts
,
rpg
,
slash
, what might have been,
wingsmut
,
writing
Administrators

Members (8):

Subscribers (9):

Linking
To link to this user, copy this code:
On Dreamwidth:
Elsewhere: